Taylor Swift Announces New Album 'Midnights'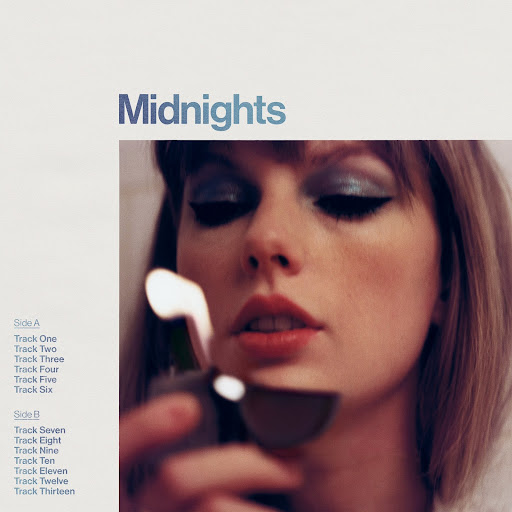 The night is August, 28, 2022, the winner for Video of the Year, Taylor Swift.  Her crystal Oscar De La Renta dress gleams against the heavy stage lights, the award in hand radiating glamor.  It is obvious that the show is about to begin as Swift begins to deliver her speech. Taylor Swift fans or "Swifties" around the world hold their breath for even an ounce of implication about her next project.  Then, the unthinkable occurs.  Taylor Swift announces her tenth studio album 'Midnights' to be released October 21, 2022.  
*** It should be noted that the aforementioned "Swifties" hold a reputation for hypoanalyzing as well as psychoanalyzing every aspect of Swift's actions. From the decorations in music videos to outfits worn on the red carpet. Nothing the artist does goes unnoticed.  It should also be mentioned that Swift entirely endorses these behaviors, adding fuel to their fire and giving her fans every reason to question her every move.  Swift is known for her secret codes, messages and symbolism through her music videos, social media posts, clothing, etc., encouraging fans to try to decode her future projects and secrets.
On August 28, 2022, the MTV Video Music Awards for Best Music Video Direction, Longform Video and Music Video of the Year were awarded to Taylor Swift for her short film music video of 'All Too Well (Taylor's Version)'.  This is the third 'MTV Video of the Year' Swift has earned.  While the ground-breaking win was celebrated by Swift fans around the world, her admirers did not have their eyes on accomplishment.  Fans had their eyes on what the accomplishment, in addition to the events of the night would unveil.  After her victory, Swift surprised fans with the announcement of her new album, 'Midnights,' which is to be released October 21, 2022.  In her Video of the Year acceptance speech she says, "I had sort of made up my mind that if you were going to be this generous and give us this, I thought it might be a fun moment to tell you that my brand new album comes out October 21 and I will tell you more at midnight" (Swift).  Swift ended the speech there, but as promised, she released more information at midnight that night.  
For the full acceptance speech, check out https://www.youtube.com/watch?v=GOBYdgz06Q8.
Although little information about the actual album has been released, Swift did allude to the theme and general inspiration of her new work in her official announcement of 'Midnights'on social media.  In an Instagram post announcing "Midnights', Swift includes a poetic and lengthy sub-description stating: 
We lie awake in love and in hear, in turmoil and in tears.
We stare at walls and drink until they speak back. We twist in our self-made cages and pray that we aren't-right this minute- about to make some fateful life-altering mistake.
This is a collection of music written in the middle of the night, a journey through terrors and sweet dreams.  The floors we pace and the demons we face.  For all of us who have tossed and turned and decided to keep the lanterns lit and go searching – hoping that just maybe, when the clock strikes twelve … we'll meet ourselves.
Midnights, the stories of 13 sleepless nights scattered throughout my life, will be out October 21. 
Meet me at midnight. (Swift)
Fans are obsessing over insights as such, speculating over the album's potential contents.  Hypotheses range from minute details such as the significance of release time and potentially related lyrics created 10 years ago to larger ideas like what the music genre will be.  Due to Swift's diversity in musical exploration, anything is possible, meaning no one will actually know the album's contents until October 21.  
The album will include 13 songs divided into two sections, Side A and B.  The specific track names have not been revealed yet.  Currently, people are able to pre-order the album on Taylor Swift's official website.  'Midnights' is available in a Moonstone Blue Edition Vinyl, Moonstone Blue Edition CD, Moonstone Blue Edition Cassette and Moonstone Blue Digital Album.  Clean versions are also available, including the CD and digital album.  
For more information about merchandise or to pre-order 'Midnights', go to  https://www.taylorswift.com/ or pre-save the album at https://presave.umusic.com/taylorswiftmidnights.  
For the Target Special Edition Collection go to