Kim And Kanye's Divorce – It Gets Messy!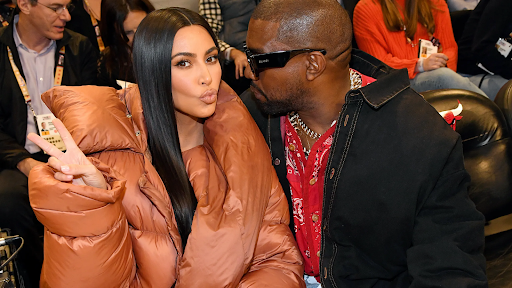 Celebrity Kim Kardashian and one of the most influential rappers in history, Kanye West, have reportedly divorced after being together for eight years. Kardashian and West called it quits and went public on February 19th, 2020, about the divorce. In a new interview with Vogue for the March 2022 cover story, Kardashian quotes, "For so long, I did what made other people happy," Kardashian, 41, said. "And I think in the last two years I decided, and I'm going to make myself happy. And that feels good. And even if that created changes and caused my divorce, I think it's important to be honest about what makes you happy. I've chosen myself. I think it's okay to choose you." The two were together for reportedly eight years and had four children named Saint, North, Psalm, and Chicago.
After the divorce, everything seemed to be okay, and Kim and Kanye were in a good place and happy with how they ended things; well, that was until Kim hosted on the hit show SNL, Where she was spotted kissing Pete Davidson or Kanye liked to call him "skete" during a skit for Aladdin. After the skit, everything went downhill for their relationship/ friendship. Kanye publicly humiliated Davidson and posted multiple Instagram rants about how angry he was with Kim. He even went as far as threatening Kim because their daughter North was seen posting on TikTok without his permission dancing to the song "Emo Girl." 
After finalizing her divorce papers, Kardashian asked Kanye to keep their divorce private, but he did the exact opposite. Ye had publicly fought the separation, including social media posts begging Kardashian to reconcile and break up with "skete." Later, in 2022, news broke that Pete and Kim had allegedly broken up after a reported nine months. The reality star and comedian split due to their busy schedules and long-distance relationship. When the breakup was announced, Pete spent most of his time filming his upcoming movie. While Kim was back in California focusing on her four kids and her billion-dollar business skims. A source claimed to  Entertainment Tonight that "the spark between" them had "faded," and they split because of it. The source also claimed, "She initially thought it would be a fun fling, but then it got more serious when spending so much time together. Kim didn't feel she was willing to settle down with him just yet."  Now, Kim and Kanye are having another feud over social media because Kim wants their four children to attend Sierra Canyon while Kanye wants them to attend his school named Donda. Ye reported on Instagram that Kim and her mom, Kris, "have no control over his black children, and they will not star on Playboy," throwing shade at the fact that this is what Kris allowed Kim to do. For now, there hasn't been any more updates on whether their children will be attending Donda or Sierra Canyon, but we know that this feud isn't going down anytime soon.