The Summer I Turned Pretty Recap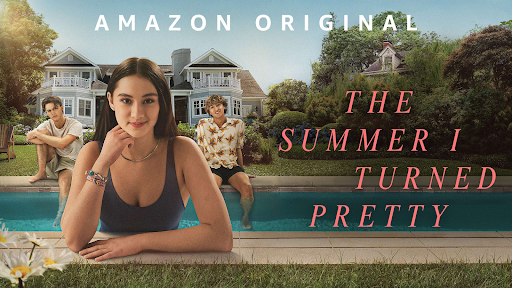 *Warning* This article contains spoilers. 
The Summer I Turned Pretty is a show on Amazon's Prime Video that shows the summer of Belly. It is based in Cousins, Massachusetts in a fun beachside town. Conrad Fisher is an 18-year-old struggling with his mental health and recently quit football. Jerimiah Fisher is a 16-year-old, happy kid who works as a lifeguard during the summer. Belly is a 16-year- old who works as a debutante at the country club. A debutante is an "upper-class young woman making her first appearance in "fashionable society." As the summer goes on, the tensions rise and Belly finds a new lover, Cam. Cam falls fast for Belly, as Jeriemiah  and Conrad's feelings arise for Belly. As July 4 rolls around, Conrad nearly kisses Belly until Jermiah appears and ruins the moment. As the story goes on tenison arrives and the love triangle forms. 
This was originally a book series, until this summer where it was made into a series on Amazon Prime Video. It blew up extremely fast as viewership increased exponentially! It created a ton of controversy for "Team Conrad" and "Team Jeremiah"- both of these two are brothers. Many people argue that Conrad is better because he has loved Belly his whole life and would do anything for Belly. Others argue that Jermiaiah is the better choice because he is way nicer to Belly and puts effort into talking to her. 
In this story there is a ton of love involved. One of the love stories that shocked the viewers was Steven and Shayla. Steven is Belly's brother and Shayla is Belly's debutante friend. Steven and Shayla were total opposites, as Steven was somewhat of a nerd and Shayla a total fashionista. They randomly meet and fall in love soon after Taylor comes into town, Taylor is Belly's best friend. At a party Belly finds Steven and Taylor kissing, this ruins Taylor and Belly's friendship. As time goes on, eventually Belly and Taylor makeup, as does Steven and Shayla. Love is a major part of this story and love is what is mostly shown a lot in the series. 
Overall, this is a great coming-of-age series that shows us many struggles: the struggles of love, friends, drama, family, teenage years and hard times. Every episode makes us excited for what is going to happen next with the love triangle.
My favorite parts of the show include the debutante ball when tension starts to arise, 4th of July, and the volleyball tournament. All of these are main parts in the story and made everything more fun!
Amazon Prime has already started filming the new series and it is set to be released spring/summer of 2023! This season is already being hyped and fans have high hopes!