Lost Love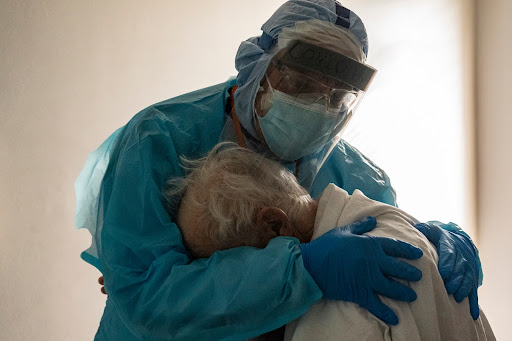 Have you ever felt lost in your life? 
Have you had the opportunity to find someone that is so special to you in your life, but then they disappear forever?  The pandemic hits the world, and your mind is blown away from normal life wondering if the universe will ever return to how it was.
You were a gift from above, teaching me to be myself. Months pass and I still remember the amazing gifts that you had given me throughout my life. As I wake up every morning, my heart feels stabbed by a knife when I'm not able to see you. 
Damn. Life felt so complicated and overwhelming, as people are losing their loved ones and are surrounded by anxiety through this horrible time. I know that when you are not there, your angel wings fly. As I stand by the sea, the crash of the ocean hits the tides, and all I can think about is the empty space you left in my lonely life. 
Is this an illusion or is reality its own illusion? This pandemic continues and time goes fast, but without you I have lost time in my hands. What I've learned is that love is an unexpected journey. There are chances to reconnect with each other, to spend time with each other, and enjoy a life together. In  the words of the Bible: "He will wipe every tear from their eyes. There will be no more death or mourning or crying or pain, for the former word has passed away" (Revelation 21:4). The lost love of my life has formed a deep sorrow in my soul, yet I know I will be strong for whatever future challenges I face throughout this spinning world of Earth. I must tell myself that the creation of the cruel pandemic that we live in will get better soon, there shall be no more death, no more sorrow, and disease. Pain, guilt and loneliness will depart from this world as we can escape from this confined zone of anxiety. 
Love was considered an infinite enigma of the unexpected journey between 2 souls who were bound to be together through trial and error, stumble and fall, for better or for worse. Yet, this pandemic has chosen worse for you in how I can never see you again. Knowing that your journey was cut short breaks my heart like a thorn stabbing the unconditional love that I had for you in my life. Alas, life is taken away from us in an instant, in a second, in a snap. Why did life in its cruelty take the only person I ever loved in my life so fast? Why did it hurt others with this terrible virus? 
That question remains unanswered in my life as I try to stay strong in my life thinking about you. Fly high my love. You will be remembered.