Attack on Titan Season 4 part 2 preview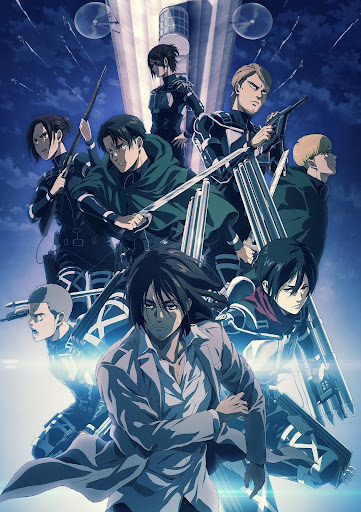 One of the most famous animes is Attack on Titan by Hajime Isayama, which is currently breaking the internet as Season 4 Part 2 slowly releases. It has been deemed by Guinness World Record as being the largest comic book ever published, and according to myanimelist.net, the world's most active anime database, Attack on Titan/Shingeki no Kyojin has been recorded as the second most popular anime ever. Consisting of 139 chapters, 30 volumes, and as of now, 83 episodes and counting, Attack on Titan tells an incredible story of young soldiers battling against titans. With the release of "The Final Season: Part 2", the story has expanded dramatically into a multilayer fiction chronicle. 
Season 4 introduces watchers to a massive collection of new characters and backstories, completely twisting up what watchers have seen up until the end of Season 3. It is jam packed with foreshadowing and references, and can even be seen in the first episode! Not a single episode wastes time, and it is safe to say there's no filler at all. The story is beautifully written and Season 4, or all chapters past Chapter 91, has all of the answers readers and watchers have been asking for since Season 1. 
The opening song, "The Rumbling" by SiM had a teaser posted two weeks ago on Youtube before the official release of the song, and that video has over 1.2 million views. It reached No. 3 on Billboard's "Hot Hard Rock Songs" chart as of January 22nd. It also has well over 1 million streams on Soundcloud.
There's been much controversy over the change of animation studios, though both have brought the manga much justice. Seasons 1-3 and the much lesser-known Original Video Animations were animated by Wit Studio, who've also animated Vinland Saga and Great Pretender. The animation was handed over to a much more popular studio, MAPPA, who may also be known for their contributions to Banana Fish, Jujutsu Kaisen, and Yuri!!! On Ice. The studio has done an amazing job thus far of really bringing in detail and capturing the eyes of the watcher. Through the use of some computer-generated imagery (CGI), the monstrous titans and their creepiness have been greatly amplified. Overall, both studios did an outstanding job in bringing the original manga to life.
New episodes are uploaded weekly on Sundays, and it can be watched on Hulu, Crunchyroll, or for those who like to live life a little dangerously, there are many websites that upload the episodes. It is highly recommended to use an ad-blocker or safe browsers, such as Brave or DuckDuckGo for the best viewing experience. It is to be expected that the finale will be postponed from March 27th to April 3rd. 
Attack on Titan is an eye-catching, gut-wrenching, emotion-inducing, action-packed anime adored by millions. It is definitely worth the hype, and every second of the show is worth watching. Small details are everything in this show, so be on the lookout for foreshadowing and tiny hints the creators throw in subtly. Also, a reminder: don't. forget. the tissues.