Omicron Variant and New Safety updates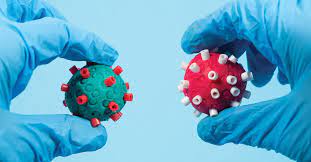 2022 marks the second full year of the Covid-19 pandemic. Unfortunately, we are still seeing new variants, cases spiking, and deaths due to the virus. The new variant, Omicron, is extremely contagious. Reported hospitalizations have surpassed last winter's by a landslide. However, Omicron supposedly has less extreme symptoms. Hospitalization time is shorter than previous variants. Compared to the Delta variant, Omicron was shown to send 50% less people to the hospital.  
Due to Omicron's low severity, it leads a lot of people to believe they only have a cold and they do not have Covid. Combined with how contagious Omicron is, positive tests are skyrocketing. As of January 14, Omicron takes up 98% of cases in the country, and as of January 18, the 7-day average of cases in the country is in the 700,000's in California alone. 
With the new variant comes new safety measures from the CDC. If someone tests positive, but shows no symptoms, they are only required to quarantine for 5 days. Exposure is different depending on vaccination status. Vaccinated people are not required to quarantine, but are suggested to wear a mask consistently around others. Non-vaccinated people are told to quarantine for five days, and wear a mask for 5 more. New studies show that Covid is most transmitted in the first two days before seeing symptoms, and the first two to three days of symptoms.  
The month following students returning to school from winter break has marked a huge surge in cases. In lieu of shutting down schools, Gavin Newsom has decided to send test kits to all K-12 students' families to be tested before school. Officials are looking for solutions to prevent students from missing any more time with in person classes. 
While the pandemic seems to be far from over, restrictions are lifting and life is getting back to  normal. Hopefully new research will lead to everyone safely returning to their regular lives once again.