Uber driver hailed as a hero for getting teen home amid freak snowstorm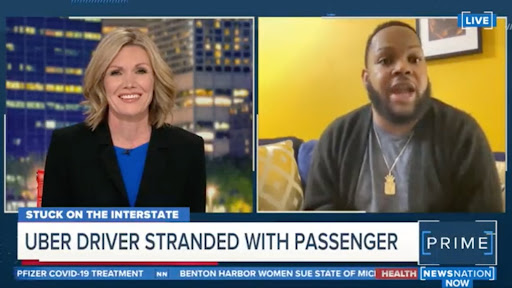 DaVante Williams, a 32-year-old Uber driver is being praised for his heroic effort to get a teenage girl home to her parents. DaVante realized the two were going to be stuck in traffic for a while and it ended up being for more than five hours on Interstate 95 in Virginia on January 3, 2022. 
Williams explained "I had to explain to her parents that, 'Hey, I'm not anyone crazy. I'm just trying to get your daughter somewhere safe.'" With all the bad news in the world it's nice to know that people are still good humans who care about each other. 
To calm the girl during the drive, Williams kindly offered her his supplies of water and crackers. Of course she was frightened and uncertain of what to do and Williams said that he didn't have any blankets in the car. Finally, he was able to turn around and return to DC. Williams didn't want to leave the passenger alone at Union Station, so he talked to her parents about him booking her a hotel room with his own money so she could be secure. Her parents were at  first hesitant, but eventually they both agreed that it was the best option. 
Afterwards, Williams was offered a part-time job as a lead driver for Alto, an upscale rideshare company that operates in Dallas, Houston, Los Angeles, Miami and Washington, D.C. At this job, Williams would begin by  training other drivers on customer service and maintaining their vehicles since he is the perfect model for working to help others. 
At Saugus High School, students and staff members could learn from Williams and allow this beautiful story to encourage them to do selfless things for other people simply because it's the right thing to do.