New Movies Coming Out in 2022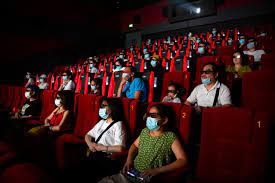 Movies are one of the most common ways to bond with friends and family. When a new movie drops, anticipation and excitement builds  up until it's release. Then fans are finally able to indulge in the new films.Since it is a new year there will be new movies coming out to entertain the world. 
 Sonic 2, is one of many new movies coming out in 2022. This is more of a kids movie but also still fun especially with younger siblings. Sonic 2 comes out on April 8, 2022. The director Jeff Fowler and writers Pat Casey and Josh Miller were hoping for the best outcome of this new movie when it hits the theaters. 
The next movie is The Lost City. This movie will be in theaters on March 25, 2022. This movie is more for an older audience because it is an action packed adventure film with a romantic comedy twist. 
The third movie is Top gun Maverick. This movie is coming out on May 27, 2022. This is the second Top Gun. Coivd-19 had a big effect on this film and production because filming got put on pause. 
With the new year there will be so many new movies to entertain all of us. Every writer has a story that they want to come alive so hopefully the future holds some new story that can be told in a movie.