The Life of Betty White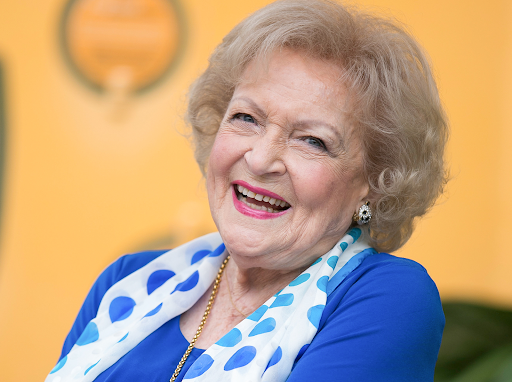 Betty White, notorious for leading a comedic and charismatic legacy, throughout her iconic roles and off – camera influence on culture. With an acting career spanning over 8 decades, Betty White influenced as TV's first original feminist and ultimately crushed the stigma pop culture invented around "older" actors and actresses. Her passing on New Year's Eve 2021, shocked and saddened families everywhere. 
Betty White had some of the most iconic roles, such as Rose Nylund in "The Golden Girls." The show aired from 1985 – 1992, and centered around four matured women who were recently divorced or widowed living and learning together. This is Betty White's most iconic role, for which she achieved international recognition, an Emmy win, and Golden Globe nomination. Her other most famous role is Sue Ann Nivens in the "The Mary Tyler Moore Show," which ran 7 years from 1970 – 1977. Although the role was intended to be a quiet housewife, White put her own spin on the character as perfectly imperfect and sarcastic. 
Betty White was known for breaking barriers and entertaining while doing it, specifically for women in television and entertainment. After landing the part of "Girl Friday" on a live TV show in 1949, White eventually rose to become the star along with the producer of her own national talk and variety TV program, "The Betty White Show." White was married twice, but did not desire the housewife life, and felt her career was more important to her. Known for employing mainly female crews; White produced, co-created, and starred in her own sitcom, hired female directors, and deliberately chose her career over marriage. She has even been given the nickname "TV's original trailblazing feminist." 
Betty White was nearing her 100th birthday, when she unfortunately passed away. However, she broke boundaries and transcended ageism in Hollywood. White also left a bold message for women around the world. She led by example, and taught women that instead of hiding or struggling with their age, they should embrace it wholeheartedly and use their life experiences to their advantage. Throughout her extensive career, not only did she better herself, but she stayed true to herself and never took things too seriously. Known for her witty, sassy, and playful attitude Betty will always be remembered for bringing families together on television.
The captivating presence of White has served a much-needed role in Hollywood, she eliminated the pressure that you need to be young and to fit a certain mold in order to get a role or be influential. Betty White owned her age. She was old and proud of it and brought a lot of playfulness, wit, and an open heart to this stage of life.