Netflix's Hit Show Squid Game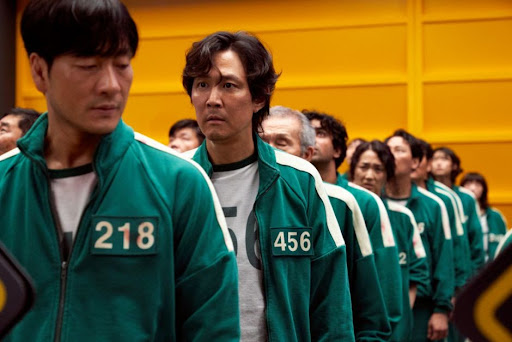 On September 17, 2021, Netflix released its new hit show, Squid Game. Squid Game was written and directed by Hwang Dong-hyuk, and has quickly become a success with reaching up to 142 million households. Squid Game tells a story of 456 poor individuals coming together to participate in a series of games for a large cash pool which can save their broken lives. However, this competition is deadly.                            
One of the challenges are morbid takes on childhood games such as marble games and Tug-of-War. Many famous symbols from the show became popular, such as the use of a traditional Korean candy "Dalgona " in a game, along with the circle-triangle-square shape sequence on the invitations to the competition. These games have been a huge contributor to the shows success, as the unexpected violence ensued grabbed the attention of audiences. Due to the violence that occurs constantly in the show, those with a weak stomach should beware. Squid Game takes on a twisted representation of how wealth affects one's character. The audience can observe the differences of social class along with the questionable lack of empathy that is present among the players' society. As the show's star, Lee Jung-Jae, actor of Gi-hun,  puts it, "'Squid Game is not really a show about survival games. It's about people. I think we pose questions to ourselves as we watch the show: Have I been forgetting anything that I should never lose sight of, as a human being?"(NY Times). 
Since this is a game where losing equals death, be careful which characters to root for or get attached to. At the end, there can only be one. Season 2 of Squid Game is currently in the works, so make sure to catch up on the first season. Hwang Dong-Hyuk hasn't said much about season 2, but teases about some of the possibilities. He says, "I'm not really in the right place to be discussing season 2 in an official setting, but if there were to be a season 2, in the first season that we saw [redacted]  is a character whose humanity is shown through or exposed in certain situations,…But I would think that in the second season, what [they have] learned from the games and [their] experience in the first season, they will all be put to use in a more active manner" (Hypebeast). In the meantime, fans will be eagerly waiting for Squid Game to return.