Was Security Breach Worth the Wait?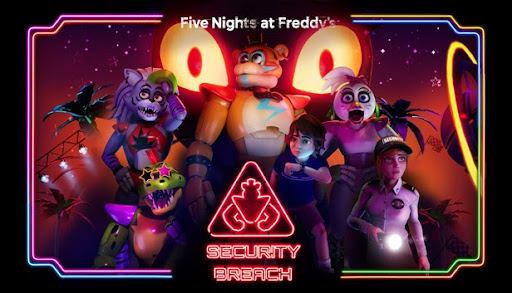 In the words of popular gamer and youtuber, Markiplier, he describes Five Nights At Freddy's as "quite possibly the SCARIEST game I have ever played!" For years, Five Nights at Freddy's (FNAF) has been one of the most well-known and popular jump scare games. These games have even influenced fans to create their own games. One of the biggest collective ideas that has come from the fanbase and creators alike is the lore of Five Nights at Freddy's. The story, the background, the secrets; everything that the creators weren't telling their audience but trying to portray through the games have been the most interesting part. The lore and the stories of how the characters came to be has always been what the fans took to the most. Each game, even fan created ones, always followed the storyline up until the most recent game, Security Breach.  
The new game, Security Breach, had the original FNAF fans anxiously waiting for its arrival. In a YouTube video showing fans reacting to the Sony release trailer, we can visually see the fans raving over the new game; excited to play and continue the story from where it left off. With these fan reactions, everyone expected this game to be amazing and be just where Scott, the original creator of FNAF, left off. 
Once the game was released, some fans had some concerns with whether or not the new game still pertained to the lore, and many were questioning where a certain familiar bunny and pirate fox was during the entirety of the game. Players got to see some new characters like Montgomery Gator and Roxanne Wolf, but fans were most excited to see the familiar faces of Glamrock Chica and Glamrock Freddy. The new looks to Chica and Freddy were a hit with the fans but there was one character they missed, Bonnie. Bonnie was one of the original characters from the beginning and the fans loved him. It was said that Monty, the alligator, "killed" Bonnie. Fans were not necessarily pleased with this idea. In a part of the game where Monty chases you, Markiplier commented on how the gator is not close in comparison with the original Bonnie" …You'll never be Bonnie, you'll literally never be as good as Bonnie " he stated in Part 9 of his Security Breach Series. 
There were fans who wanted to see the game be similar to the original games style. Unfortunately, there were many unhappy fans. "Broken, buggy pos game that does not fit with the franchise at all. […]  I genuinely cannot understand how anyone can look at this and think "yes this is a fnaf game," you should've just ended the franchise with help wanted"( Anonymous fan on Metacritic). 
Saugus High School junior, Alessandra Herrera, described in detail how she felt about the game. "I think it's a good game, but it's one of the worst made. The idea of the game was scratched as soon as Scott, the original creator of FNAF, left. It made the game choppy. There are a lot of glitches and bugs throughout the game. Although it is very entertaining to play or watch, there were times when it didn't feel like Five Nights at Freddy's. but there were also times where they included easter eggs or bits and pieces from the old games. There is just something nostalgic about being able to see those easter eggs that pertained to the old games, and not having the old characters like Bonnie and Foxy was more upsetting because they were practically my childhood."