Red (Taylor's Version)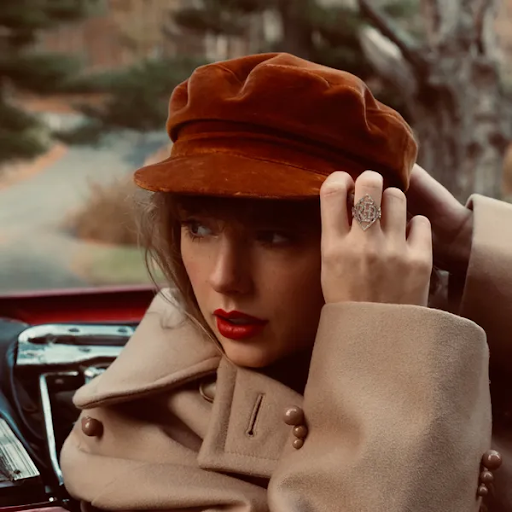 Taylor Swift fans are raving over her reclaim of her album Red, originally released October 22 of 2012. As of 2019, Scooter Braun, an American executive at Big Machine record Label, owned the rights to all Swift albums up to her 2017 album Reputation. 
Now, Swift is taking them back. Now including Red(TV) and Fearless(TV), which was released back in April of this year, and she has already recorded 2 of the five albums she has planned to re-record. The other albums Swift plans to record include 1989, Speak Now, and her self-titled debut album.
Swift's re-recording of Red takes listeners back to 2012 with the classic sixteen songs, , and fourteen songs from "the vault" which also include the three tracks that were released on the Red Deluxe album back in 2012. The new album also includes features from artists such as rising star Phoebe Bridgers, and other artists Ed Sheeran, and Chris Stapleton. 
Along with the release of the album, also came All too Well: The Short Film. The fourteen minute film features Sadie Sink, from Stranger Things, and Dylan O'Brien, as seen in The Maze Runner. Swift shows her skills in storytelling beyond the realm of songwriting. Artfully delivering each blow to Jake Gyllenhall, the speculated subject of the song. Swift even mirrors an iconic clip from one of the Spiderman movies, as Gyllenhall is well known for his role as Mysterio in Spiderman as of 2019. 
Since the release, Swifties have been giving the album nothing but good reviews. The Rolling Stone says "the amazing thing about Red (Taylor's Version) —[is] it's a tribute to how far she's traveled, but it makes you even more excited for where she's heading next. This is the golden age of something good and right and real."alluding to the first track on the album "State of Grace" in the end of their review. The album also got 9.6/10 by the users of Metacritic. On top of everything, Swift broke her own record for vinyl sales in five days. Brands are also looking for a way to show their solidarity, Swift even earned herself a latte on the Starbucks menu, and Panera changed the iconic line, "Loving him was red", from Swift's song Red, to: "Loving him was bread." 
Swift's powerful takeback of Red is only the beginning. This remake isn't an outcry for relevancy, it's making the good better. Now, it "Begins Again".