Events that led up to the threat of Roe V. Wade Being Overturned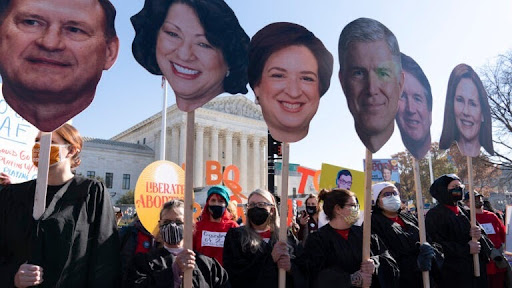 When Roe V. Wade was passed in 1973, which preserved a pregnant woman's right to choose whether or not to have an abortion without undue government interference and it was a monumental day for all women in America. Since the day that decision was made, many have fought to overturn the law. Now more than ever, Roe V. Wade is under attack and getting closer to becoming overturned. The most recent and relevant reason for this is that former President Donald Trump was able to choose three conservative judges to sit on the Supreme Court. 
The first person Trump nominated to the court was Judge Neil Gorsuch, which kept the ratio of the nine judges four conservative and five liberal. The second judge nominated after Associate Justice Anthony Kennedy announced his retirement was Judge Brett Kavanaugh, changing the court ratio from majority liberal to majority conservative. Finally, when former Justice Ruth Bader Ginsburg died, Donald Trump nominated one last person to the Supreme Court as one of his last decisions in office. He chose conservative Judge Amy Coney Barrett who ultimately pushed the decision to reverse Roe V. Wade and put the debate where it is today. 
While conservative Chief Justice John Roberts opposes abortion rights, he has been a swing vote on a number of liberal matters in the past and has a long history of upholding the Supreme Court's reputation. Conservatives no longer needed to appeal to him when Justice Barrett was sworn in to constitute a conservative majority. Certain states have already made the decision to limit abortion rights. For example, in Texas you can no longer get an abortion any time after a fetal heartbeat can be detected, which can be as early as six weeks of pregnancy. 
Currently, the country is extremly divided on this particular issue as 22 states have legislation that might be used to prohibit or severely restrict abortion, and 15 states and the District of Columbia have laws protecting the right to abortion. 
A study suggests that one in four women will have an abortion before the age of 45, making this law a drastic change for a lot of Americans. If Roe V. Wade is overturned, abortion will become illegal in at least 12 states and more would follow behind. This conclusion might make many people happier, however it will be devastating for women who will no longer have access to a safe and affordable abortion.