National Dessert Month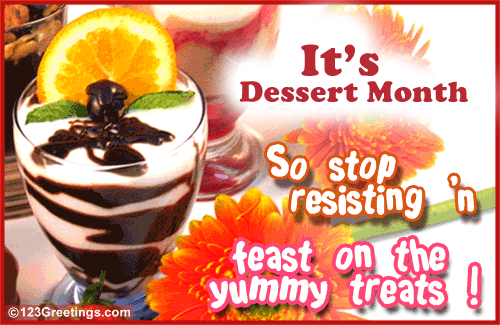 Everyone loves a sweet dessert, although not all feel happy about it five minutes later. What people seem to love more than a good dessert is a good excuse to eat it. October is National Dessert Month, granting everyone a perfect excuse. There's no need to wait until the end of the month for Halloween. It is time to devour an entire cake without feeling guilty.
This year has been filled with changes and many have been attached to their homes for a year now. What's at home? That's right, food. Anyone who hasn't gained weight the past year deserves a medal because once there are snacks in the fridge, they're gone within a week (maximum) in most houses.
Now that things are somewhat going back to normal, many people are losing weight fast, especially if they're in a sport. Some people are going on restrictions to lose weight even faster, but October isn't the month for that. Desserts are arguably one of the best aspects of life, so go crazy. To stir up some ideas of what to make or buy for National Dessert Month, an article titled "The Best Desserts of 2020 (Pies, Cakes, and More!)" has a list of desserts with recipes that students could whip up in their free time. First on the list is apple pie. It's quite obvious as to why it's on top of the list; the apples make it naturally delicious. Although the recipes are a little complex, the sweetness of the apple balanced out with the freshly baked crust is hard to pass up.
Next on the list is homemade vanilla ice cream. While many enjoy vanilla ice cream from their local grocery store, homemade ice cream offers superior sweetness and flavor in many people's opinion. This tasty treat will impress and refresh while not overpowering students' taste buds.
Third on the list of must-have desserts is the creamy caramel flan. It's practically pudding with caramel – who wouldn't want to eat that? The pudding consistancy holds itself together and has a light taste. The caramel on top might as well be a cherry because it pulls the whole dessert together.
Now that all these desserts are in mind, go out and try them! Fulfill those cravings by getting something sweet from the student store or enjoying a cake pop and more at the closest Starbucks. There's no need to wait until October 31st to fill up on some sweets. After all the work they accomplish each week, students deserve to treat themselves with some sugary snacks!