5 Must Visit Outdoor Activities in Santa Clarita  
The Santa Clarita Valley is full of all kinds of adventure, beauty, and fun. From nature centers to family fun centers, there are many locations throughout the valley that are sure to offer a day filled with memories.
Courtesy of Placerita Canyon Nature Center website
Placerita Canyon Nature Center is located off of the 14 freeway. This recreation center is the home of the "Oak of the Golden Dream", where the first documented discovery of gold in the California region took place, after mineralogist Francisco Lopez supposedly dreamed of gold under the tree, prior to his findings. History and hiking trails radiate out into the park from the Center, with longer hikes leading to a seasonal waterfall and to the top of the Santa Clarita Divide. Picnicking is available near the beautiful Nature Center.
Photo taken from Vasquez Rocks Exploration Cite 

Vasquez Rocks
  Vasquez Rocks Natural Area Park is a 932-acre park located in the Sierra Pelona Mountains in northern Los Angeles County, California. Vasquez Rocks offers a vast amount of outdoor activities, including equestrian staging areas, equestrian centers, equestrian trails, horseback riding, BMX track, camping, fishing, hiking, mountain biking/cycling, and moonlight hikes. One's schedule will be filled with adventure and fun at this memorable natural park. 
https://www.google.com/search?q=vasquez+rocks&rlz=1CAUHHJ_enUS970&source=lnms&tbm=isch&sa=X&ved=2ahUKEwjGmuOIxvLyAhUSM30KHWbKDXQQ_AUoAXoECAEQAw&safe=active&ssui=on#imgrc=2v1Y5IO0ZHVk2M
Couresy of Melody Ranch Studio

Melody Ranch Motion Picture Studio
  This Motion Picture Studio has been around since 1915. It is located off of Oak Creek road in Newhall, California. The 30 acre ranch contains 3 stages that have been in  a total of 14 films. Some of these films include Friday the 13th Part 3, Once Upon a Time in Hollywood, Django Unchained, and High Noon. One can take a virtual tour online for free, or go to the Ranch itself. An appointment must be made before a trip to this exciting location, at this link.
Gilchrist Farms
This fun destination has a multitude of events. It is recommended for birthday parties and a day with the family, offering activities such as horseback riding classes and a petting zoo. During the spring, one can sign up for an exclusive experience called the spring fling. Tickets can be obtained on the website https://www.gilchristfarm.com/spring-fling 
Make sure to get tickets while they're cheap!
Santa Clarita Trails
Santa Clarita is filled to the brim with places to walk, bike, or run, containing 80 miles worth of trails. Be sure to uphold basic safety precautions like wearing a helmet if riding a bike or skating. Individuals are encouraged to respect the trails and refrain from littering. These gorgeous trails are perfect for having fun and enjoying the scenery.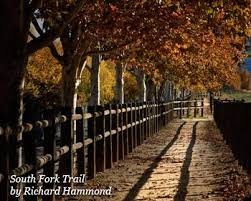 Santa Clarita is filled with beautiful and fun locations that allow one to get away from the everyday routine. To enjoy nature and have a refreshing day of fun, these locations are highly recommended!