COVID-19 and the Importance of Informed Decision Making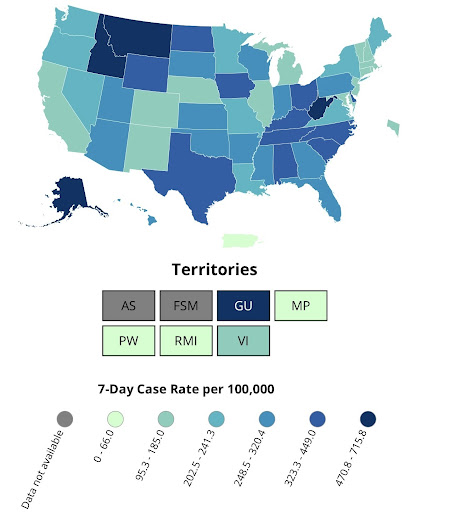 If it feels like COVID-19 has taken over all of social media, economic status, mental health, and overall current quality of life, that is because it is 100% true. COVID-19 statistics are drastically changing everyday and it is difficult for anyone to know exactly when things will go back to normal. As scary as this information may sound, teenagers in America have the power to do some basic research to clear up the confusion and help bring things back to how they used to be. For example, look at some facts around current cases and vaccination rates to not only understand how COVID-19 is currently affecting the United States, but also how it's affecting other countries around the globe. 
Starting off with California's numbers, as of September 17th, we have the lowest 7-day case rate in America of 113.6 cases per 100,000 population according to the Centers for Disease Control and Prevention (CDC). In direct contrast, West Virginia has the highest 7-day case rate of 765.3 cases per 100,000 population during the same time period. Tying those case rates to vaccination status, we can see that California has 57.6% of our population fully vaccinated, while West Virginia's percent of its fully vaccinated population sits at just 40.1%. Just to reiterate once again, West Virginia has the lowest vaccination rate in America with the highest number of reported COVID-19 cases over the last 7 days according to the CDC. 
Now to make things more interesting, let's take a look at a couple significant counts and rates around the globe. Israel has one of the highest 7-day case rates in the world currently, while also having one of the highest vaccination rates of any Country. Their 7-day case rate stands at 710.9 cases per 100,000, while their vaccination rate is 63.3% of people fully vaccinated. There are only 30 countries in the world with a higher vaccination rate than Israel according to the World Health Organization (WHO), and yet their case rate is through the roof right now. To complicate matters even further, Spain has a 7-day case rate of just 46.7 cases per 100,000, while their vaccination rate is 76.55% of people fully vaccinated. While Israel's numbers are in direct contrast to the previous facts provided from states around America, Spain correlates perfectly. This substantiates my original thought that information can be contradictory at times and constantly evolving. Some research on Israel suggests that the Delta Variant, in conjunction with waning or decreasing immunity, explains what is happening there right now. However, it just proves that there remains much to learn about this virus and how to protect ourselves from it.
Teenagers in America should agree that it is crucial to fight for what they stand for and to make their own decisions as they see best fit. To follow that, the decisions people make should be based on facts and trusted information. If people chose to get vaccinated they should do so after researching the data and speaking with trusted adults to make sure they feel comfortable with their decision. Not everyone needs to make the same choice, but they should use the same process of fact gathering and discussion when making their choice about whether to get vaccinated or not.