Saugus Varsity Football Team Demolishes Santa Barbara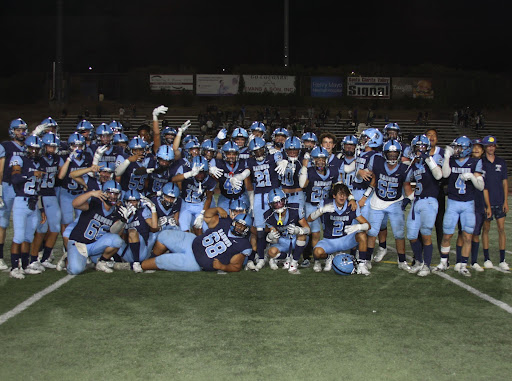 The school year is starting off great for one important reason. It is because of our Saugus Varsity Football team defeating Santa Barbara thiry-five to zero. Saugus players contributed outstanding wins for the Varsity team, such as Senior player Sebastian Dallaire, and Junior player, Austin Treahy.
"We were very excited and fired up to start the season off with a win!" Austin Treahy told the Scroll. Treahy felt great about his contribution to the team's win:  "I contributed to our team´s win by scoring our first touchdown and helping out on defense." Treahy felt great for helping the team, which boosted his and his teammates' confidence. The football team enjoys playing the game even through a pandemic, and there is still uncertainty about  anything else that could take away their playing time but the team is determined to win the Foothill League championships again.
Treahy added, "Moving forward in the season, our team is going to focus on ourselves and we will keep getting better." 
Saugus was also able to cruise to a victory with the help of Saugus´ wide receiver and quarterback Sebastian Dallaire, who reflected on this win: "It is a great way to start off the year in football and school. It is going to give us confidence the more we practice and in the classroom. This is the start to make a name for ourselves and it's great to start with a win."
With Varsity's first victory of the season ; for it gives the team confidence to finish out the season strong. When asked about how the team felt going up against Santa Barbara, Dallaire stated that, "[i]t's always kind of hard coming into the first game using last years game film not really knowing their personnel but we understood them and felt very comfortable after the first quarter  and we just started playing."  
Dallaire is considered a star player among the other great, amazing players on Saugus' Varsity Football team. The Scroll also asked Sebastian what the mindset of him and his teammates were, considering that this is his senior year and he may have additional goals for the team: "100% CIF going all the way, this is the last time we're all playing together and we know that and we're just going to put everything on the line and with this current season we literally don't know if we are going to play each week with games being canceled each week, so we're just lucky to have a game every Friday in every game because it could be very well our last." 
Saugus Varsity Football has the spirit and hope of knowing what lies ahead in their unpredictable and goal-setting season. Believing that this season will be great, students of Saugus High know that the Centurions will give it their best, especially after hearing from players, Dallaire and Treahy. Go Centurions!