Vegan Recipes!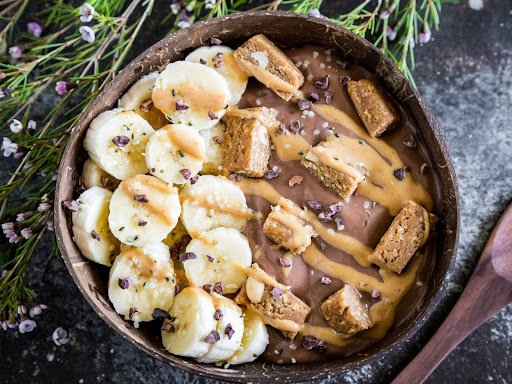 Veganism is beginning to take over our Tik Tok "FYP", Pinterest boards, and Instagram explore pages. So here is a  full day's list of vegan meals and recipes to make that fit in your busy school schedule and healthy lifestyle. Being a Vegan myself, I personally made and tried each one of these meals, and I have to say they were amazing.   However, my non-vegan family enjoyed it just as much as I did, so I think you will too. All of these recipes are delicious and so healthy! They are packed with nutrition and will keep you full all day at school. Even if you aren't vegan, try them anyway! Have a "Meatless Monday" to benefit your health, the environment, and your wallet!
To start off your day, fuel up with a Vegan Yogurt Power Bowl. I personally love this recipe, it is so easy to quickly make before school. The great thing about it is  inexpensive and easy to find. I like to get the ingredients at Whole Foods or Sprouts because they have very natural and organic products, but you can find the ingredients at any grocery store nearest you. This bowl is so much more affordable than a typical meat breakfast. I spent about 17 dollars on all of the ingredients, and to remind you, they last about a week. So you are spending only $2.42 on breakfast daily, rather than spending an average of 23 dollars, $3.28 daily on a typical "American" breakfast. 
With this next recipe, lunch has never been better, it is a light and refreshing Vegetable Herb Pasta Salad that will be a great energizer for the rest of your day. The best thing about this delicious dish is that you can make it the night before school, and eat it hot or cold. Not only does it taste great, it is made with the freshest and healthiest ingredients. And don't worry, if you have allergies, you can swap out the pasta for Gluten Free pasta noodles. After this meal you will be satisfied and energized for your next class.
As the day winds down, you can sit and have some hearty Vegan Pulled Pork Tacos with your family. These tacos are AMAZING, you will be absolutely shocked at how much they taste like meat. They are so much better than real pork because they lack the risks. According to Dr. Frank Hu, professor of Nutrition at Harvard, "[studies show that] red meat, and processed meat contribute substantially to premature death." These meat free tacos by far, are way healthier than pork tacos, making them an even better meal. These tacos are highly recommended and I hope you try them out!
Last, but certainly not least, dessert. Let's end the night with some Fluffy Frosted Vegan Cookies. These cookies are like the frosted sugar cookies we all know and love, but better. You get a delicious cookie without the extra fats, eggs, and milk, making it very natural. These cookies are also great paired with vegan ice cream. With ice cream they  are just the right cakey texture. I highly recommend this dessert.
After all this, you can see that being vegan for a day is not too hard. It is incredibly delicious, and these quick and easy recipes will leave you satisfied, not to mention they can impress everyone, vegan or not. Try them out, and see how you like it!