The Grammy Winners of 2021
The 63rd Annual Grammy Awards took place on Sunday March 14, 2021 at the Los Angeles Convention Center. Trevor Noah, host of The Daily Show, presented this award show and people were able to watch it on CBS. Even though there was no live audience, it was still a successful night for many artists.
At the Grammys there are four categories that artists compete for. Music genres of all kinds try to win the Album of the Year, Record of the Year, Song of the Year, and Best New Artist. The Album of the Year Award honors the producer's, sound engineers, mixers, and songwriters. Vox commented that it is "the rough equivalent of the Best Picture Oscar." Record of the Year awards the performing artist, producers, sound engineers, master engineer, and sound mixers. The Song of the Year honors the songwriter. The Best New Artist Grammy is awarded based on the records released the previous year. 
Billie Eilish won the Record of the Year with her song "Everything I Wanted."She also took home another Grammy for a Song Written for Visual Media that was nominated for Song of the Year and Best Pop Solo Performance. For the second time in a row Eilish has won Record of the Year, reflecting her talent and hard work in this industry.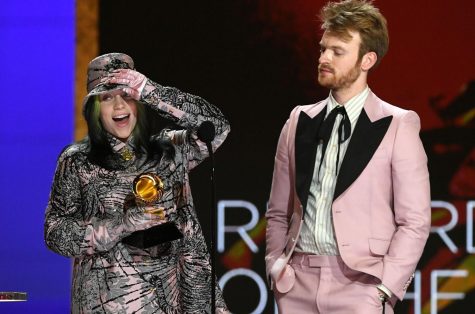 Even though Eilish was very successful by taking home two Grammys, she did not think that she was the rightful winner. NPR declared, "upon receiving the Recording Academy's most prestigious award, Eilish, who swept the major categories in last year's awards, immediately deflected credit and said Houston rapper Megan Thee Stallion should have won the award for her song "Savage."
Taylor Swift took home the Grammy for Album of the Year for Folklore. She was also nominated for Song of the Year, Best Pop Vocal Album, and Best Pop Duo/ Group Performance. "Taylor Swift also made history at Sunday's ceremony, by becoming the first female artist ever to win Album of the Year three times,"BBC noted. Swift wrote Folklore during lockdown and received amazing feedback and a Grammy for it.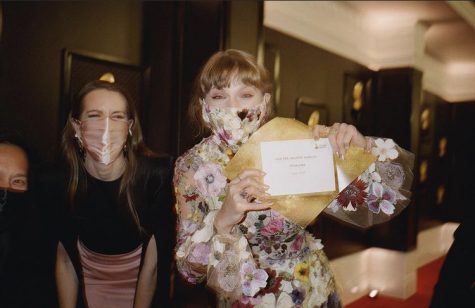 Beyonce also made history at the 63rd Annual Grammys, due to her 28th win, setting a new record. The New York Times added, "She now holds the record for most Grammy wins by a female artist." Beyonce broke this record when she won the best R&B performance award for "Black Parade," which is a celebration of black power, that was released on Juneteenth in 2020. 
Along with breaking the record with 28 Grammys, Beyonce also had 79 Grammy nominations, which is the most by any female artist. She has also broken the record for six Grammys won in a night by a female. This is a record Adele shares, seven Grammys for consecutive albums, that only three other groups and artists have earned. 
Megan Thee Stallion also won Grammys for Best New Artist, Best Rap Song, and Best Rap Performance. NPR commented, "Her 'Savage' remix featuring Beyonce helped surpass Alison Krauss for most Grammys ever by a female artist and tie super-producer Quincy Jones at 28 career trophies."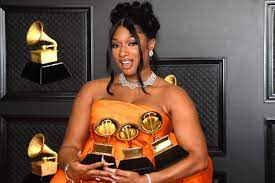 Another memorable mention was Dua Lipa. She was nominated for six Grammys in total. Pitchfork, an American online publication for music, noted, "Future Nostalgia was up for Album of the Year and Best Pop Vocal Album." Her song "Don't Start Now" was nominated for Song of the Year, Record of the Year, and Best Pop Solo Album. She also collaborated with J Balvin, Bad Bunny, and Tainy and created "Un D`ia (One Day)", which was nominated for Best Pop Duo/Group Performance. 
H.E.R. won Song of the Year for the song "I Can't Breathe" along with Best R&B Song for "Better Than I Imagined." U.S.A.today noted, "H.E.R. 's song of the year win for "I Can't Breathe" reflected the country's renewed racial reckoning of this past summer." It honored Black lives and Black artists. Her songs "Slow Down", the original and acoustic, and "Better Than I Imagined" were also nominated for Best R&B Song. Pitchfork commented on "I Can't Breathe winning Song of the Year, "She won the award over Beyonce "BLACK PARADE", Roddy Rich "The Box", Taylor Swift "Cardigan", Post Malone "Circles", Dua Lipa "Don't Start Now", Billie Eilish "everything i wanted", and JP saxe featuring Julia Michaels "If the World Was Ending."   
The 2021 Grammys was a night to appreciate the hard-working artists as well as allowing them to be rewarded for the music they have put out. This past year was hard, but most artists still managed to make the most out of it and created amazing new songs and albums. The full list of Grammy winners and performers can be found here at the Grammys official site. Or here on CBCnews.