Efforts to Remove Homeless Encampments at Echo Park Reveal County Priorities
On Wednesday and Thursday night, scores of police moved in to clear out homeless encampments at Echo Park in Los Angeles, revealing the priorities of city leaders to adhere to constituent demands over the protests of residents.
Echo Park is home to one of the city's largest and most visible homeless encampment sites, providing a place for about 200 homeless individuals to reside. The park has come under fire by city leaders claiming that the environment poses both a safety and health risk to the public. 
"The Echo Park facility has devolved into a very dangerous place for everyone there: drug overdoses, sexual and physical assaults, self-styled leaders taxing homeless individuals and vendors, animal abuse, families without shelter in the colder weather, and last fall shootings," said City Councilman Mitch O'Farrell in a statement.
Councilman O'Farrell has demonstrated a history of vowing to restore Echo Park, repeatedly referring to it as "dangerous" and chaotic" but has previously refrained from providing a public timeline. The decision to close the park this week was kept a tight secret from the public until leaked through unidentified sources to news outlets and activists, leaving the homeless with little to no warning.   
Homeless sweeps have been put on a hiatus by the city since the start of the COVID-19 pandemic, but this most recent Echo Park decision shows a shift in policy, as the city has ordered the temporary displacement of homeless populations for clean-up in the past but now seems to favor removing them from an area permanently, and with little regard.    
"Mitch, if you continue down this path, to sweep and displace unhoused residents of Echo Park Lake, there's going to be an escalation that you are not prepared for," warned Ricci Sergienko of the activist group People's City Council.   
On Wednesday and Thursday, hundreds of activists and protestors gathered to oppose the city's efforts to remove homeless individuals from the park, leading to clashes with authorities when the protests were declared unlawful and orders to disperse were issued. An L.A. Times reporter was also reportedly detained by police when covering the event. 
Protesters who have been arrested are being lined up in front of the temple before being placed on @LAPDHQ buses pic.twitter.com/AbpxCuehWV

— Benjamin Oreskes🦅 (@boreskes) March 26, 2021
Protestors stood in solidarity with unhoused neighbors, arguing that the removal of the camp revealed negligence from the city and temporary solutions for the homeless. 
"Housing is a human right," chanted the crowd Wednesday night. 
During these clashes, the L.A. police department spent hundreds of thousands of dollars on resources to force residents to move, demonstrating the city's priorities for allocating funds. In addition, the clean up plan for Echo Park involves nearly $500,000 for repairs. 
The city has offered to move people from the encampment into hotel rooms under state program Project Roomkey, though this provides only a temporary solution for those being displaced. "They want these people out of here, out of the park, yeah, they're going to get involved just to go to a hotel," said community activist Carlos Marroquin. "But what happens after that? Those vouchers are not permanent, they're temporary."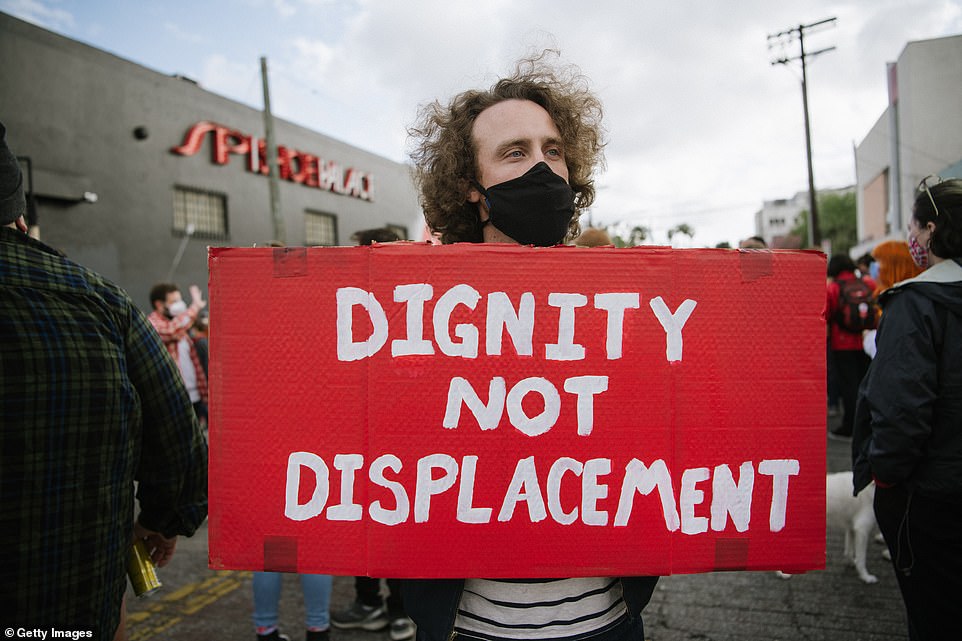 Zarinah Williams, president of the Echo Park Neighborhood Council, agreed that the city should have handled the situation better: "The first priority of it should have been, 'Ok, there are humans who are here, let's worry about them first and get them into permanent housing with permanent solutions for lives and their care, let's do that' and then the park would be perfect forever because we'd never have to worry about people living in it."
Echo Park residents have also expressed outrage over the city's lack of negotiation with residents, stating that the park has become a community that provides dignity and safety not found on sidewalks or freeway underpasses.
"This park could have easily been MacArthur [Park] or skid row, but it wasn't. It wasn't. That was because of us — not you," one longtime resident, Ayman Ahmed, told O'Farrell. Ahmed has become an unofficial spokesman for the encampment. 
Residents claim that they have turned the encampment into a model, something the city refuses to see, with a pantry, garden and effort to coordinate cleaning. The homeless population at Echo Park has managed to fill a void that the city has failed to fill. 
As of Friday morning, following two nights of protests and clashes, posters and debris cover Echo Park. It is unclear where many of the residents will end up or for how long the city will provide temporary housing in hotels.
Bryan empties out his tent and prepares to take it down. He is not gonna take a hotel room b/c he said he has some place to say on the Westside. He is not sure how he'll get there though. Tonight he expects to stay on the street. pic.twitter.com/28BeUlYgow

— Benjamin Oreskes🦅 (@boreskes) March 25, 2021
It seems despite demonstrations and outrage, the city intends to move along with its plan to close off the park to the public, sweep the homeless permanently from view and prove once again that the beautification of the park outweighs the safety of homeless individuals. L.A. must begin prioritizing permanent solutions for the homeless population that makes up 15,000 individuals in the county alone. Perhaps then there would be fewer parks to clean up. 
The opinions in The Scroll's editorials are strictly the views of the writers of the staff or outside submissions. The views do not represent or reflect the opinions or policies of Saugus High School or the William S. Hart School District. The Scroll welcomes all reactions and outside submissions to share alternative views.