The Caucus Foundation Continues To Support Student Films, Shine Light on Young Filmmakers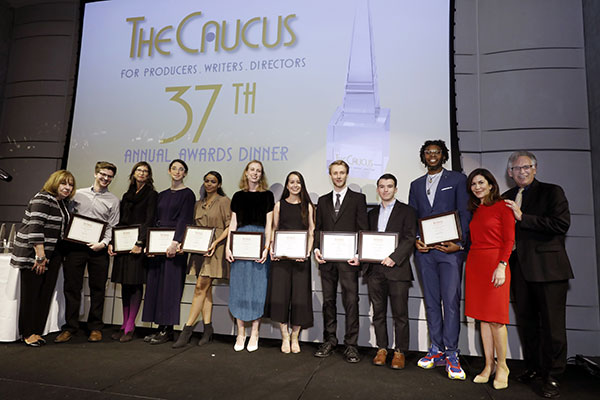 On Thursday March 4, the Caucus Foundation held their annual Caucus Awards, awarding big Hollywood figures in the areas of film and producing in order to raise funds to support student film making. 
The Caucus Foundation is a non-profit charitable organization that hosts a Grants Award Program for university students to support their student films and productions. Since its establishment, the foundation has given nearly $2 million in grants to film students.
"[The Caucus] started out as a political advocacy group for producers but evolved into a way to mentor and bring up the next generation of young filmmakers, TV producers and screenwriters," said Sharon Arnett, president of the Caucus Foundation to The Scroll.
The Caucus Awards show, this year hosted by American actor James Picken Jr. who is known for his role in Grey Anatomy, helps to sponsor the Caucus Foundation and their student grant program. 
Like many events in the past year, the awards show took on a virtual platform and was streamed online. This allowed for acceptance speeches and appearances from Hollywood names around the world, including Reese Witherspoon and Lauren Neastadter accepting Producers of the Year Award and Nicole Kidman presenting the Director of the Year Award to Suzanne Bier.   
Throughout the event others were rewarded for their work in film and television, with Aaron Sorkin winning the Writer of the Year Award, Vin Di Bona receiving the Caucus Legend Award, Marsai Martin winning the Inaugural Rising Star Award and Cali Katz winning the Educator of the Year Award. The Humanitarian Award was given to Jeanne and Tom Townsend.
While primarily coming to support university and film major students with their student films, the foundation has more recently begun the process of broadening their program to include reaching out to high school students and younger who are interested in the film industry. According to their mission statement, The Caucus aims to promote creativity and involvement from different students in all grade levels, without regard to race, color, sexual orientation or disability. 
"We want to start looking at high school and grammar school talent pools to offer our services to help nurture them so they can be the next Steven Spielberg," said Arnett. 
Gaining experience in the film industry has changed drastically among younger generations, as new technology has allowed for access to recording and special effects that would otherwise cost millions in film production. 
Caucus Co-chair Jim Hirsh emphasized the immense potential of young people interested in film and television today: "You can never replace the practical reality of spending time trying to write a script or make a film. The big difference for young people especially, high school age today, is that everyone can make a film." 
Hirsh went on to say, "Imagine now what can be done with a phone. The technology is exploding around us and it's going to affect everything but one thing: storytelling."
The Caucus encourages young students, particularly high school students to start early in their film and television ambitions. Whether it be script writing, acting or filming, students can practice their craft at home, in their community or with their friends. "Make films. Write scripts. Do your craft and hone your techniques," advised Arnett.  
Hirsh advised students who are interested in getting involved in the industry to,"Get out there and write, get out there and make films. Use the technology that exists today and have fun with it." 
To learn more about The Caucus Foundation or to become more involved in upcoming outreach events and mentorships, visit their website by clicking here. They can also be found on Facebook and Twitter.