A Guide to Post- High School Education
Figuring out what to do after high school to further your education can be frustrating. The options for education are not limited but they are complex, so it is not uncommon for students to contemplate how they want to venture into life after high school. The following options are some education related routes:
One of the most common routes is college, and depending on the college a student has applied to the application process varies. However, no matter the prestige of the college, the common areas of concern are grades, essays, extracurricular activities, SAT/ACT scores and letters of recommendation.
Luckily there are now programs that help with this process, for instance "Common Application", which is like a universal application that can be shared with it's 900 "member colleges". This basically saves time in filling out all the repetitive application questions. 
With that said, this program is not a fastpass out of all the work, as certain applications will have follow up questions and might even ask for a second essay. 
Essays are usually the portion in an application where an admissions officer will learn the most about you, so completing the essay section is the most worrisome. Luckily with today's technology, support is everywhere and just a few clicks away. On YouTube students can find essay coaching videos and crash courses like this one. Additionally, English teachers are more than happy to help students with their application essays.
Nicholas Zavala, junior in college at College of the Canyons (COC) and film major stated, "I wanted to go to college because I knew I needed the experience, because for film you're either self taught or you go to school for it. [Personally] I didn't want to be self taught because I know I don't have the discipline for it. "
 Some students strive towards getting degrees to hold themselves accountable. Others want a degree to be eligible for better employment opportunities and to ensure a secure future for themselves. With a degree, most careers will look at you as a more qualified employee and the leading majority of employers will pay more for having a degree as well.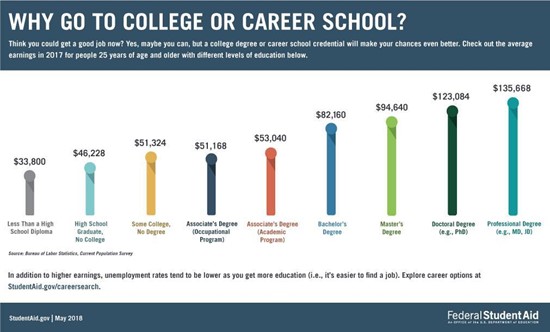 For example in the military, if a student enlists after going to college and completing their General education they are automatically placed into E-4 rank , when an non-college educated soldier would be placed into E-1. The E stands for enlisted rank, this is how high you are up in the chain of command and directly plays into paygrade. 
Similar to job rankings, there are also 'ranks' and types of degrees. There are various different types of degrees but the main four are associate, bachelors, masters, and doctorate. 
An associate degree requires 60 semester credits or 90 quarter credits which usually takes two years to complete. So in order to receive an associate degree, a student must get 60 credits, this can be accomplished by taking 20, 3-credit courses. 
While for a bachelor's degree there is a requirement of 120 credits, which is around 40 courses. Taking about four years to earn a bachelor's degree.
A master's degree usually needs 36 to 54 semester credits or 60 to 90 quarter-credits. This adds up to about 12 to 18 college courses. Which typically requires a year and a half to two years of full-time schooling. 
A doctorate is the highest level of education one can receive on a certain subject. A student needs 90 to 120 semester credits or 30-40 college courses to earn a doctorate. Some doctorate programs will take anywhere from four to six years, however this can vary. Some programs even call for a research thesis. 
A research thesis according to Suny Empire State College is relatively similar to a thesis for a non-research essay. The difference lies in the information and evidence from sources to support your perspective on a topic or stand on an issue. Although your sources provide information supporting the thesis, the ideas should be your own and individual to your personal way of thinking about and analyzing the topic.
In order to build up his credibility in the film industry, Zavala has decided to transfer to Northridge to simultaneously complete two degrees. Getting his associates degree at COC, and his bachelor's degree at Northridge. In total he will be majoring in film for anywhere from four to six years. 
"This works both more financially and time efficiently, of course if you go to a fancy four year you are going to be instantly in debt unless you've been saving. If you start at two year you get [advantages] like the two year promise which I was a part of."
The two year promise is basically a 'vow' to sponsors at a community college that students will keep their grade over a C and be a full time student. For four, three unit classes students must earn a C or higher in all of them. If a student does this for two years the tuition for those years are free. 
While transferring out of community college to a four year is most common, this is not the only route. Gap years are commonly disfavored due to the popular idea that students may lose momentum or students may fall behind. However statistics do not back this up. Gap Year Association statistics show that "90 percent of students who took a gap year returned to college within a year."
 Another source, Joe O'Shea's book, Gap Year: How Delaying College Changes People in Ways the World Needs says that "economic researchers found that high school students who deferred their admission to college to take a Gap Year went to college [after their gap year] at the same rate as those who accepted an offer and intended to go straight there." 
In fact, Chase Hayden, Saugus High alumni, class of 2019 took a gap year after graduating to focus on saving up money for college, and consider more deeply his true passion for film school. In doing this he said he felt college was less of a drastic life altering decision and more of a gradual shift. 
Go Overseas, a studying abroad travel program stated "while gap years are gaining popularity in the U.S., they are far more common in Europe and Australia. The concept of a gap year originated in the UK in the 1960's and has long been considered to be a rite of passage." 
This is not to say that the routes listed above are the only way a student can get a college education. There are various different post- high school options that do not involve transferring in or out of college or taking a gap year. Some chose to skip this process all together and instead intern or take an apprenticeship to build work environment connections. 
Internships, though usually unpaid, help give insight to a daily routine in the position in which a student is interning. Interning is all about making connections and seeing into the career, participating in daily tasks that they would have to engage in if the intern continues the job.
 Pursuing an internship can be very advantageous during college or over the summer, as it can be used in a resume as real world experience and gives the intern more skills to potentially qualify them for a different occupation. Internships give students a chance to explore what they would like to do as a profession, and what tasks are disliked and favored in a work environment.
 Resembling internships, apprenticeships can also help build one's work experience and are often overlooked because most don't realize that they can oftentimes offer college credits but without the student loans or debt. 
Apprentices are classified as students in whatever they are apprenticing in and according to the Seattle Times, over two years students could earn up to 15 college credits and earn as much as $28,000 a year from the companies they work for. Apprenticeships can be looked at as a way to ease into a career instead of diving in headfirst. Like apprenticing, community colleges also offer the same type of easing structure. 
Again there are many different options available for students post-high school, just make sure to have a game plan. Hayden remarked "just extend your knowledge and gain more insight about the real world. Take classes on things you enjoy, because you'll meet new people with common interests and make connections."