The Rise of Anti-Asian Hate Crimes
Outrageous and racist displays of violence against the Asian American community skyrocketed during the coronavirus pandemic, targeting mostly Asian elders. Many have been assaulted, and even a handful have been murdered, and all have been racially motivated attacks because of China and its link to the coronavirus.
Hate crimes against Asian Americans have increased by 150 percent during the pandemic.
Many innocent members of the Asian-American community have been blamed and harmed over a virus, and here are a few heartbreaking stories about a few of the attacks against Asians. 
In Texas last Spring, a Burmese immigrant, Bawi Chung, and his two children, ages 2 and 6, were stabbed while going grocery shopping for bread at Sam's Club. According to an FBI analysis, the 19 year old stabber, Jose Gomez, thought that the victims were "Chinese and infecting people with the coronavirus." He even admitted to the police that he tried to kill the family. The suspect is now facing three accounts of attempted murder.
In early February of this year, a Filipino man named Noel Quintana was riding the train to his job, when the suspect grabbed a box cutter and slashed Quintana across the face. None of the other passengers on the train came to his aid. When he got off the train, he got help from a ticket booth attendant who called 911. "…I saw the reaction from the one seated in front of me they were so shocked and that's when I touched my face and saw a lot of blood on my hands," says Quintana. The 61-year-old victim was taken to the hospital where he received a hundred stitches. "I was so worried because I don't want to lose so much blood because most of the fatalities would be a loss of blood and I don't want that to happen to me…" The attacker of Quintana is unknown and has not been found or identified.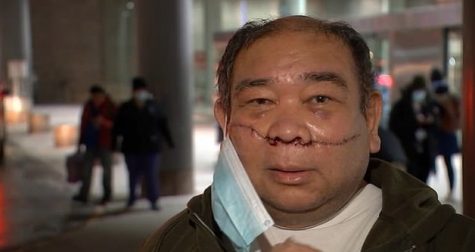 In September 2020, Tadatkata Unno was an aspiring jazz pianist who moved to New York City from Japan to fulfill his dreams as a musician. He was landing gigs, and always came to performances prepared and on time. Unfortunately, because of his race, his dreams shattered when a group of teenagers attacked him. As they beat him up on the street, the attackers kept on calling him "Asian" and "Chinese", along with saying profanity. Among many other injuries from the incident, Unno's right collar bone was fractured, and now he can no longer use his right hand to play the piano. He is considering moving back to Japan after this life changing attack in the city where he once dreamed to live. 
An 84-year-old Asian immigrant from Thailand named Vicha Ratanapakdee was well known for taking hourly strolls in his neighborhood in San Francisco. He had recently received the coronavirus vaccine, when he was taking another one of his usual walks down the neighborhood, when a man running all the way from across the street violently slams the fragile senior, sending him sprawling on the ground. He was found dead with  brain hemorrhaging by the police. This tragic event was all caught by the neighbor's security camera. The victim's family is devastated after the loss of their loved one, and they believe that this attack was a hate crime. After seeing the heartbreaking footage of the attack, Eric Lawson, Ratanapakdee's son-in-law says, "This was driven by hate." Ratanapakdee's daughter, Kim has also faced Anti-Asian racism verbally. A witness said they heard the attacker yell "Why you lookin' at me?" twice before the impact. The 19-year-old suspect, Antoine Watson, has been charged for murder and sentenced for life.
These attacks during the coronavirus lockdown are only a few among a never ending list of tragic events against Asian Americans. A woman threw snowballs at an Asian man's car while calling him racial slurs. An 83-year-old Filipina woman was punched on the train. An elderly Asian man was pushed over and his hips broke. An elementary school worker got beat up and lost a part of his finger. A 36-year-old Asian American man was stabbed multiple times. Last year, an 89-year-old Cantonese woman was slapped and then set on fire. Most of these attacks are barely a percentage of many that have occurred during quarantine. Recently, the crimes against Asian Americans have rapidly increased, and it seems as if there is a new attack reported  almost everyday in the month of March and February 2021. 
Racism against Asians are not only shown with violence, but in many other forms either big or small such as discrimination, robbery, facing death threats, various forms of assault, and being spat on the streets, and stereotyping.  "My sister was shopping and wearing a mask. When she would look at certain merchandise, an employee would follow her and clean where she had touched. My mom noticed that she did not do this to any of the other customers, all white, only my sister," said an Asian person from Phoenix, Arizona. Anti-Asian racism even exists among children. An Asian mother from Austin Texas said, " My (9 year old) son was on a summer camp field trip. While there, a girl from his camp group told him that all Chinese people have the Coronavirus. She said that Asians brought the virus. Then, she proceeded to get the other kids to play a game called 'Corona touch' and said that he had the 'corona touch.' The constant results ended up making him cry." 
According to the Stop AAPI (Asian American and Pacific Islander) Hate, a group that records Asian hate crimes and discrimination towards Asians during the pandemic, there have been over 2,800 and counting first hand accounts of hate against Asians from 47 states, from March 19 to December 31, 2020. 7.3 percent of the recorded display of hate involves Asian Americans who are over the age of 60.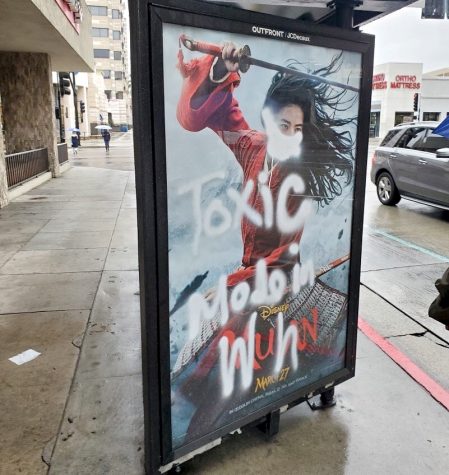 Their statistics also show that another way racism is expressed towards Asians have been vandalism and the destruction of Asian business, especially Chinese restaurants and shops. Chinese business owners have gone to work, seeing their windows smashed, their property broken, and some have even seen racial slurs and racist mentions of the coronavirus spray painted on their walls. One time, Muyang Deng who was originally from China but is now a sophomore at the university of Wisconsin saw a message written on the streets saying "It's from China #chinesevirus." "I don't know what to say. I was really speechless. At the time there was already the term 'Chinese virus' but I didn't think it would happen so close to school," said Deng. Another example of this type of Asian racism, is when a Mulan live action poster was defaced. She was spray painted wearing a mask, and it said "Toxic, made in Wuhan".
Russell Jeung, the man who created the Stop AAPI Hate tracker, and the chair of the Asian American studies department, said, "When [former] President Trump began insisting on using the term 'China Virus,' we saw that hate speech really led to hate violence.  That sort of political rhetoric and that sort of anti-Asian climate continued to this day." 
New York City resident Pearl Sun said, "I think the rhetoric from our previous administration was definitely the catalyst for all of this. Anti-Asian sentiment has always existed, and we've had a lot of legislation in the past that has not been good for us either: the Japanese internment camps, the Chinese Exclusion Act of 1882. It's been an ongoing situation, but the previous rhetoric has amped up all of his hate, calling it the kung flu virus and the China virus, and we are sadly, seemingly an easy target."
Some people have had enough of the hate directed at the Asian community, especially the violence Asian elders have been facing. One example of this was when a young man named Jacob Azevedo, a 26-year-old man of Hispanic descent gathered people on social media to escort Asian elders in Oakland, Chinatown, to keep them safe. "I just wanted to offer people some kind of comfort," he told CNN. He had thought of this idea of escorting the Asian elderly through Chinatown after hearing about the numerous events involving violence of Asian elders, especially while walking on the street. As of early March, a new group has formed to protect Asian Americans in Oakland, Chinatown. 
Even actress Olivia Munn spoke out about the spike of hate against Asian Americans across the nation, after her friend's 52-year-old mother, Chin-Yeung was attacked. A man threw a box at Yeung's head, then violently shoved her to the ground, resulting in the victim having to get 10 stitches on her head. Munn recently said on an Instagram post, "Please help my people be safe. Please care about what's happening to us. There has been an astronomical rise in violent hate crimes against Asians/AAPI since the pandemic was weaponized against us. We need help." The suspect has been arrested and charged with assault and harassment, but was released at 3 am the following morning. 
View this post on Instagram
In New York City, there was a "Rise up Against Asian Hate" rally in Foley Square on Saturday, February 27th of this year, to protest the wave of attacks against Asian Americans. "Stop Asian hate! This is the message we have to get out, not just in New York City, but all over the city," says Bill de Basio, the mayor of New York City, "Stop Asian hate! Stop it now!"
A seventh grader named Ashlyn from Burlingame Intermediate School had the courage to protest for human rights when she hosted an anti-Asian racism rally in the Bay area. Her family sent emails and passed out flyers around town, and the attendees grew to the hundreds. They carried signs like "Love our food? Love our people," and "Stand for Asians", as the 13 year old led the protest. 
Asian racism has always existed in America, but has drastically increased during the coronavirus pandemic. Many more innocent Asian Americans have faced various forms of racism compared to before, especially the elders who have faced violence, and some even death. Some people have had enough of the violence against the Asian American community.