Hart District Board Discusses Reopening 7-12th Grade Schools
At Wednesday's Hart District Board Meeting, the governing board primarily discussed the issue of reopening junior high and high schools, as well as provided an athletics update. 
Returning to a hybrid schedule of in-person instruction has become an increasingly tangible reality, as COVID-19 cases in Los Angeles county have remained at a steadily decreasing level following the winter surge. Currently, L.A. County remains in the restrictive "purple tier" with a 7.2 out of 100,000 adjusted case rate.
To begin in-person instruction in 7-12th grade schools, the county must have a 7 out of 100,000 adjusted case rate and remain in the red tier for two weeks. The next update on case rates in the county is scheduled for next Tuesday. 
These numbers have prompted district board members to begin planning for a hybrid schedule to allow students to come back to campus and receive in person instruction, while also keeping the option of staying online open to students.
 On Monday teachers and school staff were placed on the priority list for receiving the COVID-19 vaccine, with many from the Hart District having attended the vaccination clinic at Henry Mayo this week. According to Hart District Superintendent Mike Kuhlman at Wednesday's board meeting, a vaccination is not required for teachers to return to their classrooms, but strongly encouraged.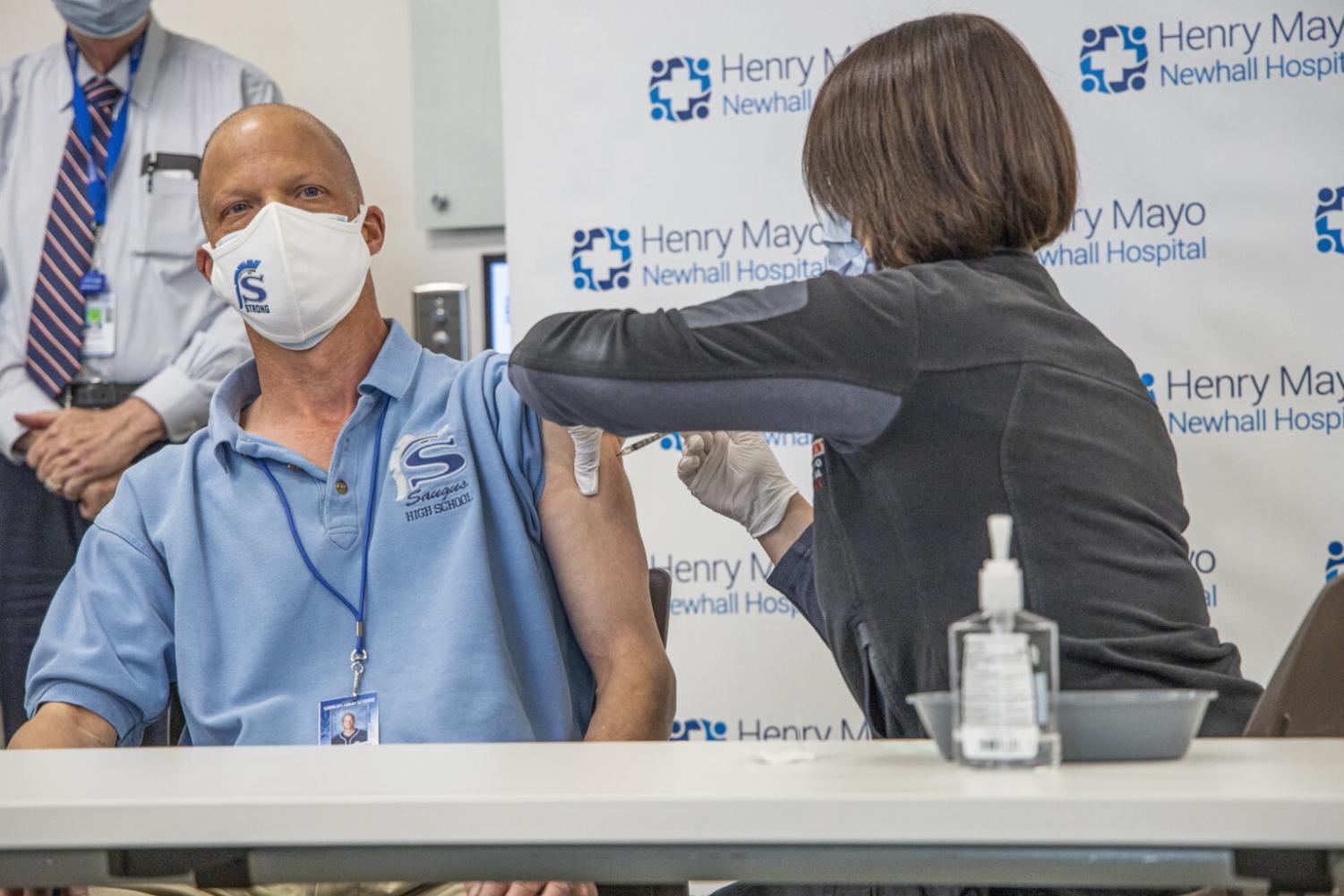 On Wednesday's meeting the board heard from numerous teachers and students regarding the matter of reopening schools. There were a total of 94 public comments submitted, with 68 from teachers asking to delay reopening, 13 from students and teachers asking to reopen, and 3 asking to delay reopening.     
"There is no course of action that is going to make everyone happy," said Kuhlman at the meeting. "We have attempted to consider every aspect of reopening."
While the board's timeline for reopening is reliant on if the county enters and remains in the red tier, the specific timeline and procedures were discussed at the meeting. The Hart District hopes to have teachers in their classrooms by March 22, giving them a week to prepare before student's returns on March 29. 
The board has said they plan to reopen schools the first Monday after the date L.A. County becomes eligible. 
Already in the Hart District 620 teachers and 14,889 students have returned to in-person instruction, the majority of these students consisting of those with special needs or "at-risk" students. 
During the meeting the board gave an idea of what this return to the classrooms would look like, with some members having observed the practices at Huntington Beach High School, which recently re-opened using the hybrid schedule. 
Teachers are expected to engage with both in-person and online students during the same period, meaning some students would be logged into class online and watching the teacher while some students would be physically in the classroom.
Concern for the teacher's wellbeing and ability to balance both forums of learning was expressed by board member Linda Stori, "I cannot imagine what teachers are going through. I think our teachers are amazing and they can do whatever we ask of them, but it will be hard." 
Students would be expected to bring their own laptop or devices with them to in-person instruction, as schools hope to minimize the use of paper in classrooms. Classrooms would be thoroughly cleaned between each passing period, and the District has invested millions of dollars on health and safety equipment including hand sanitizer, sanitation wipes and plastic dividers. 
Additionally, the District expressed it's plan to be lientant on student attendance to in-person classes, due to concerns over student mental health and how schedule changes such as these can cause stress.  These timelines for return to campuses are expected to become more concrete in the following week. Students, staff and families can submit a public comment to be read at the next district board meeting by emailing [email protected] no later than 4:00 p.m. on the day of the meeting and titling the email "Public Comment."