"Let Them Play" Rally Calls for Reopening of Sports
On Friday, Saugus football, along with other sport representatives and athletes from Hart District schools, participated in a statewide "Let Them Play" demonstration, calling for the reopening of high school sports by the district and state of California. 
High school sports have certainly felt the effects of the coronavirus pandemic, with practices, meets and games in the past 10 months having been pushed back indefinitely or cancelled. As COVID-19 cases and deaths continue to rise and hit record breaking numbers due to holiday surges, the future of high school sports remains up in the air. 
Last week, the Hart District governing board suspended the return of small cohorts of students to campuses until February 8 in a 4-1 vote. On Wednesday, the board also voted to allow for athletic conditioning starting Wednesday January 27. 
The board emphasized that the vote only opens the options of athletic conditioning to coaches and athletes, and anyone who is uncomfortable with attending, both students and coaches, are not required too.
Sports competitions, including games and meets, as well as practicing, is not allowed as of now.    
"It's an agonizing decision because I know that sports are a big part of the mental health of students but at the same time, I have had to weigh some very specific data in our community where the people working in healthcare have communicated that the virus is spreading unchecked throughout the community," said Hart District Superintendent Mike Kulhman, who addressed Friday's "Let Them Play" crowd.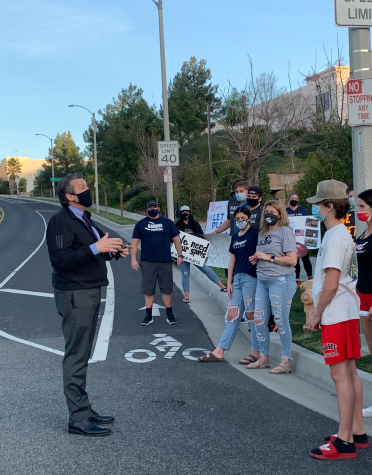 The school board's most recent decision comes after multiple push-backs for sport seasons and unclear timelines for reopening. "Not being able to play football or sports in general has had tremendous impacts on not only myself but also my fellow teammates," said Saugus football player Cristian Anaya. "We have been teased with the idea of playing sports. They tell us to hold on and continue to wait because there are still chances of a season, but when it comes close to a start date, we are let down."
As district officials have put an indefinite pause in sports competition and practicing while allowing for conditioning, parents and athletes have demonstrated their feelings towards the district's decision, claiming sports as essential to student's mental health and data that shows low transmission among athletes. 
The statewide rallies associated with "Let Them Play CA," an organization made up of athletes, coaches and families founded on Facebook, are an example of the pressures being directed at California school district officials. 
Demonstrations were held across southern California, including one in front of the Hart District Office on Friday where a crowd—most adhering to face-covering protocols—gathered with "Let Us Play" and "We Won't Get This Time Back" signs. The crowd primarily consisted of football athletes and parents from different schools in the district including Saugus, Valencia and West Ranch.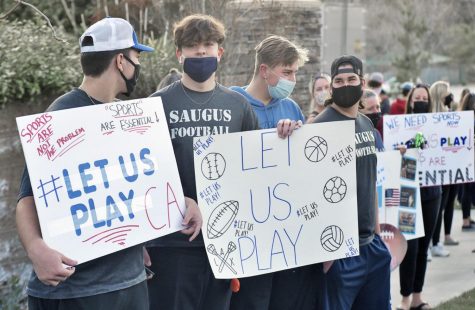 "We're making a stance, we're making ourselves known, and that we're not going to sit quietly anymore," said Marla Gieser, Valencia parent who was present at the rally. "For my two sons, I just want them to have their normal high school career. It's extremely sad as a parent to see that your kid cannot have these experiences that they were looking forward to." 
Also at the rally was Saugus parent Starla Sandoval, who expressed her goal in participating in the demonstration: "I hope the Hart District changes their mind and allows for whatever kind of season they can have at this point, even if it's just league games. I'm hoping they look at the statistics and see the depression rates are up and that it isn't just about physical health, it's their mental state."   
It is evident that sports play a critical role in student's mental health as they provide socialization, comradery and improve physical well being. With the Hart District prioritizing and emphasizing mental health in recent months, parents and coaches urge officials to consider the part sports play.  
"We [athletes] feel that sports are important and not something that should be taken away from us," said Valencia football player Tyler Corbat, who was present at the rally. "Being able to play would mean a lot. I think it's important, and I feel it's just as essential as school." 
"For many, football was a way to balance ourselves. It was a way we kept healthy mentally and emotionally. It was our way of releasing stress and having fun," said Anaya. When asked what it would mean to him to be able to play again, Anaya replied, "It would mean everything."
Additionally, data collected and distributed by "Let Them Play" organizers from the Golden State HSFB Coaches Community reveals that rate of transmission among athletes from workouts is 1 in 103,766 and among coaches, 1 in 69,622. The data also states that out of 933,895 workouts, athletes arrived and left campus workouts COVID free 933,886 times.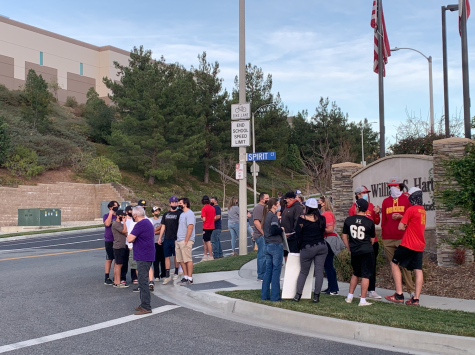 Sport activists hope that these statistics, among others, help to further their argument in allowing for seasons and practices to begin.
For now, the distribution of COVID-19 vaccines offers a semblance of hope for the return of students and staff on school campuses and the resumption of high school sports in the next year, but for senior athletes time is running out. 
"Let Them Play CA" activists plan on continuing with demonstrations and actions that push for the reopening of sports as soon as possible.   
"They need to be on the fields and in the courts," stated Sandoval.