'Tis the Season to Give: Where You Can Donate this Holiday Season
With the holiday season comes the season of giving, and many organizations have established fundraisers or donation drives to help those in need. Across Santa Clarita and within Saugus High School, clubs, centers, nonprofits and more are in need of community participation in donating. 
While the COVID-19 pandemic leaving no community unaffected, it is more crucial than ever that those in need receive support. Here is a list of organizations holding fundraisers or donations this holiday season:   
Saugus Club "Kotr" Winter Drive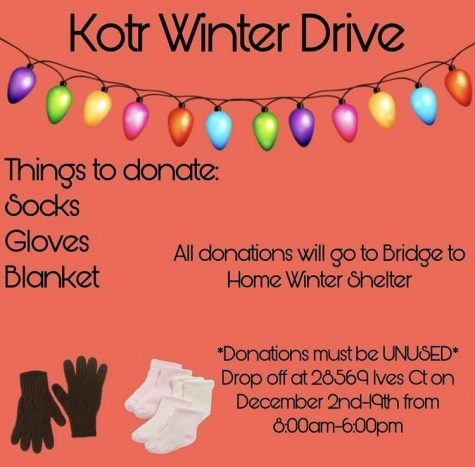 Community service club at Saugus High School, Kotr, is accepting donations to go to Santa Clarita nonprofit Bridge to Home, an organization that provides support for the homeless population in SCV. Kotr encourages the donation of unused socks, gloves and blankets. Donations can be dropped off at 28569 Ives Ct on through December 2 to 19 from 8 a.m to 6 p.m.
SCV Sheriff Toy Drive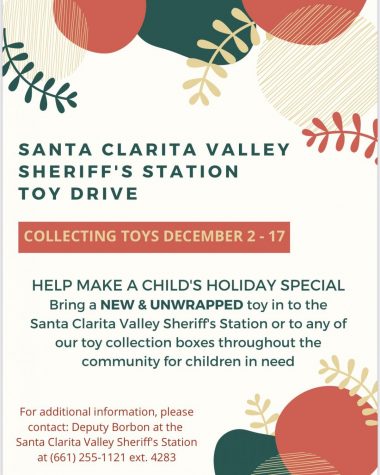 The Santa Clarita Valley Sheriff's Station holds an annual toy drive throughout the holiday season, accepting new and unboxed toys from the community for children in need. This year, interested individuals can drop off a new, unwrapped toy at the SCV Sheriff's Station lobby anytime up until December 17, 2020. Other drop off locations include the following addresses:   
KHTS AM 1220 2430 Main St., Newhall
Frontier Toyota – 23621 Creekside Rd., Valencia
Valencia Sports Medicine – 27430 The Old Rd., Valencia
Cardinal Health – 27680 Ave. Mentry, Valencia
Valencia Dental Group – 28134 Newhall Ranch Rd., Valencia
Creative Years Preschool – 21710 Golden Triangle Rd., Santa Clarita
Bicycle John's – 26635 Valley Center Dr,. Canyon Country
Beaute Lab – 27213 Camp Plenty Rd., Canyon Country
Hasley Dental Group – 29655 The Old Road, Castaic
SCV LGBTQ Center Toy Drive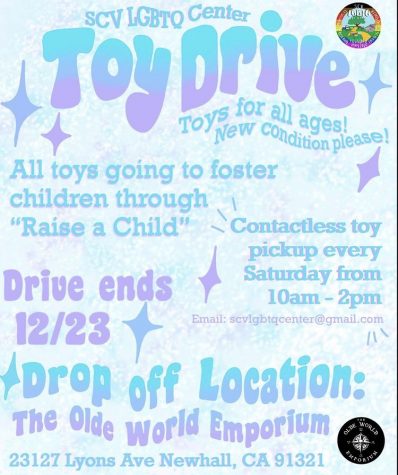 The Santa Clarita LGBTQ+ Center is holding a toy drive that allows for new toys to be given to foster children through the Raise a Child program. A contactless toy pickup is scheduled for every Saturday from 10 a.m. through 2 p.m. at the Olde World Emporium. The drive ends on December 23. To contact or ask questions, email [email protected].  
Santa Clarita Civil Advocacy Network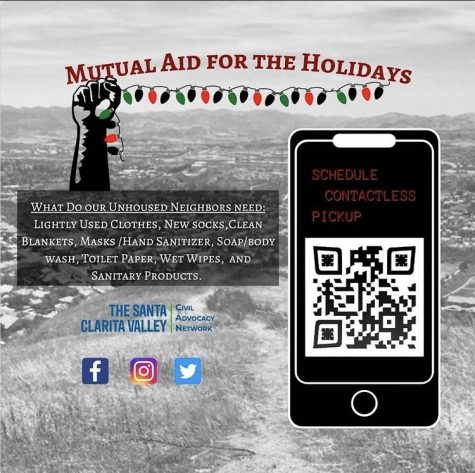 The Santa Clarita Civil Advocacy Network is hosting a donation drive for the valley's homeless population, accepting items such as lightly used clothing, new socks, clean blankets, masks/hand sanitizer, soap/body wash, toilet paper, wet wipes, and sanitary products. Interested parties can schedule a contactless pickup by going here, and to the "Mutual Aid" tab.