Congress Deadlocked on Second Stimulus Package
As nearly 12 million Americans are expected to lose their unemployment benefits and eviction moratoriums the day after Christmas, Washington lawmakers are struggling to reach a consensus on a second stimulus package. 
Congress processed and approved the $2.2 trillion Coronavirus Aid, Relief and Economic Security Act (CARES Act) back in March, providing individuals and businesses with support amid economic downfall caused by the virus. Since then, no additional Federal support or funding has been approved.  
"The CARES Act was critical funding for us at the beginning of this pandemic—but we have been largely abandoned by the federal government since then," said Los Angeles Supervisor Janice Hahn. "We need another round of funding so we can pay businesses to stay closed and get help to people who have lost their jobs. This should have happened months ago, but it is not too late. The vaccine is coming but we are still months away from it being widely available."
Republicans and Democrats in Congress remain divided on the latest $908 billion relief bill offered by the Trump administration, disagreeing on a variety of issues including legal immunity for businesses, and state and government relief. 
The bipartisan group of lawmakers proposed the deal that focuses on extending unemployment benefits, aid for small businesses and other assistance. Their outline of the deal, released Wednesday, includes $300 billion for small businesses support, $160 billion for state and local relief and $300 per week in unemployment benefits. 
It also includes $25 billion in rental assistance and to sustain the eviction moratorium through January.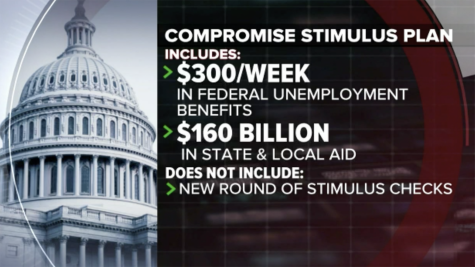 Unlike the initial CARES Act, the package does not include direct stimulus checks to individuals, prompting Democrats to question how the package would really help individuals and families.
Top-Republicans, particularly Senate Majority leader Mitch McConnell, have accused Democrats of refusing to make a deal for political reasons, as House Speaker Nancy Pelosi and Senate minority leader Chuck Schumer rejected the relief package due to its exclusion of federal unemployment insurance supplement.   
Pelosi and Schumer have also rejected McConnell's proposal of a relief deal that did not include legal immunity for businesses or universities. 
"Cutting unemployment to the extent he has is […] not going to get much support among any Democrats," Schumer said about McConnell's proposals. 
"More deflection, more delay and more suffering for innocent Americans," said McConnell of Democrats rejecting the White House proposal.
Congress' window for passing relief legislation is coming to a close as employment benefits are set to expire on December 26 and eviction moratorium are set to expire at the end of the year, leaving millions of Americans and businesses out in the cold. Cases of the coronavirus have steadily increased in the past months, topping records for positive cases and daily deaths back in March and April, leading to shutdowns and stay-at-home orders in numerous states and counties. 
Health and government officials hope for the distribution of COVID-19 vaccines in the coming months, though a specific timeline is not known. 
While negotiations continue in Washington, the Los Angeles County Board of Supervisors unanimously voted on Tuesday to support a motion that calls on Congress to pass the latest COVID-19 federal relief package. 
Authored by Supervisor Hahn, the motion calls for the sending of a five signature letter by the Board of Supervisors in support of the bipartisan $908 billion relief bill and any other Federal proposal that would provide relief to the county. 
Lawmakers plan to vote in the coming days to extend government funding by a week, through December 18, in order to buy more time to resolve issues of broader spending and coronavirus relief deals before the holidays. Federal funding is expected to lapse Saturday if Congress fails to pass legislation. 
"How can we in good conscience go home for Christmas knowing that a day after Christmas, 12 million Americans will see their unemployment insurance disappear?" questioned Democratic Illinois Senator Dick Durbin.