Examining the Gender Pay Gap in Sports
The gap in pay for professional athletes between male athletes and female athletes is  gigantic. Every year, Forbes publishes a list of the top 100 paid athletes in the world. For the first time in eight years, a female athlete did not make the list, which gives a pretty good idea of how male athletes get paid so much more. According to Salary.com, Sports officials and analysts attempt to explain a potential reason for the pay gap being due to how much more money men's sports teams bring in compared to female sports teams.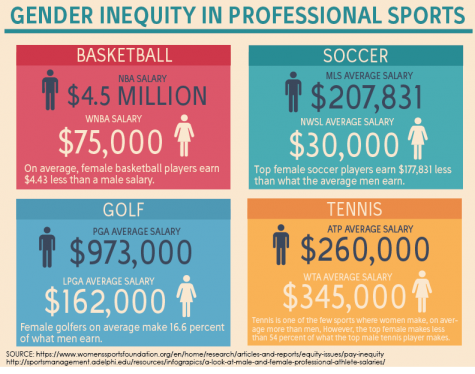 For example, in the 2018-2019 National Basketball Association (NBA) season, the whole league made a combined $8.76 billion dollars in revenue compared to the WNBA's (Women's National Basketball Association), which only produced $60 million dollars in revenue. When compared, the NBA made 146 times more than what the WNBA did in revenue, suggesting a possible reason for the difference in money paid to the athletes. In boxing, the highest paid female, Katie Taylor was paid 1 million dollars in 2018, while the highest paid male boxer, Tyson Fury made 57 million that same year.
 The U.S. women's soccer team has just won a lawsuit asking for equal pay between the men and women because women work just as hard as men. Sbs.com is a broadcasting service and actually thinks that women work harder than the men in sports: "The biggest discrepancy in muscle distribution between a female and male body is that by and large, women have less muscle in the upper body compared to men. The difference can be as large as 30 per cent in healthy individuals. When applied to sport, the impact is clear. The difference between the distance the javelin has been thrown in the men's and women's world records is around 30 per cent. The time difference between male and female athletes in the 100m sprint is about 10 per cent". 
With both sports all the athletes are extremely talented and work very hard to be where they are today. However, the pay is extremely different. Maybe one day things will change.